Hemp Balm for daily use with CBG & CBD
HEMP OINTMENT - REGENERATION BALM
"Hemp balm suitable for the care of any type of skin and for all skin problems. The basis is organic shea butter, high content of cannabinoids, beeswax and vitamin E. We have tested and confirmed its exceptional effects, so we are glad that it helps you. Amazing for massages."

Usage:
Apply the balm to the skin and leave it on during the day or overnight. It is also suitable for use 2-3 times a day. Massage into the problem area on the body. Always use on clean and dry skin.
for regeneration (renewal, revival)

for burns, bruises, various cosmetic and skin problems

for eczema, acne, herpes, psoriass

for muscle and joint pain, suppression of spasms, varicose veins

supports the healing processes of the skin and reduces pain

Composition:
Premium Shea butter unrefined BIO nature, beeswax, cold-pressed hemp oil, vitamin E, 222mg CBG, 111mg CBD.
It is also suitable for vegans.
An exceptional combination of ingredients for your well-being, beauty and vitality!
Cannabinoid CBG acts on the receptors of the skin and thus helps the regenerative processes in the human body. It has antioxidant and anti-inflammatory properties, thanks to which it has the ability to soothe and hydrate irritated skin and thereby provide pain relief.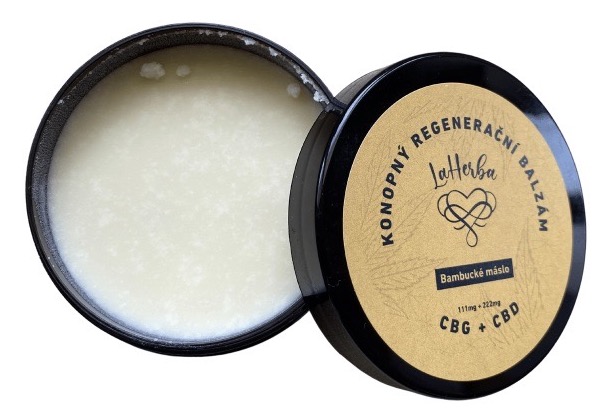 ---